BACK TO TOP
archives
"United We Stand"
Patriotic Magazine Covers
July 1942



July 4th, 1942 marked the first celebration of America independence since the beginning of World War II. To commemorate the event, over 500 magazines placed the American flag on their covers as a show of patriotism. Paul McNamara, promotional manager of Hearst magazine, implored monthly and weekly magazines to run images of the Stars & Stripes on their covers.
The Collection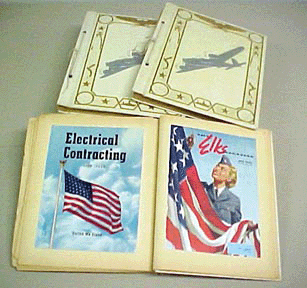 In July of 2005, the State Archives received three scrapbooks containing 269 of the 4th of July magazine covers. The collection holds over half of the patriotic magazines printed in 1942.
Elizabeth (Meadows) Crissman of Ipswich, SD compiled the July 1942 magazine covers and placed them in these scrapbooks. Elizabeth had three main sources for collecting the magazines: trips to Aberdeen, mailing in requests for magazines, and receiving covers from friends who knew she was collecting.