BACK TO TOP
archives
Civil War Veteran's 1885 Census
After the Civil War, veterans of both the Union and Confederate armies moved to Dakota Territory. This index consists of census record sheets for a special census of Civil War veterans living in Dakota Territory (South Dakota) in 1885.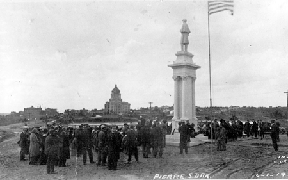 Dedication of Civil War Monument, Pierre, 1920
South Dakota State Historical Society volunteers transferred the Union soldier census, consisting of 421 census sheets listing 5,875 soldiers from 45 South Dakota Counties, into a computer database.
By County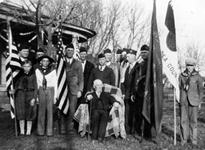 Photograph of Civil War Veteran J.S. Clark at his 100th birthday celebration. The image was taken in Bruce, SD in 1931.
Photo courtesy of the State Archives of the South Dakota State Historical Society.