BACK TO TOP
☰ Menu
archives
Special Projects program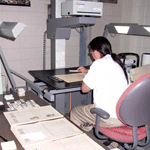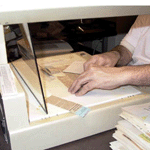 The State Archives operates a Special Projects Program that is able to assist with microfilming records and converting the microfilm to digital. Please contact the Special Projects Program for information on services.
The Special Projects Program microfilms 11 daily and 130 weekly newspapers in South Dakota. The program does preservation microfilming on 16mm or 35 mm microfilm and makes sure that the microfilm is of high quality for readability and format. This facility is for film production only. Those who want to view the microfilm need to visit the State Archives.
In addition to newspapers, the Special Projects Program oversees filming of a wide variety of records from various state agencies and county offices. Archives staff trained in preservation microfilm techniques supervise prison inmates who operate the microfilm cameras.
Most daily newspapers are available in the State Archives in Pierre for viewing or purchase within three months of their publication. Weekly newspapers take 1-2 years to film because of the volume required to fill a roll.
For information concerning Microfilm Holdings, Research Use, Inter Library Loan and Film Purchase email the South Dakota State Archives at:
archref@state.sd.us
To request information from newspapers not yet filmed, email:
archref@state.sd.us