BACK TO TOP
archives
Postcard images of World War I South Dakota Digital Archives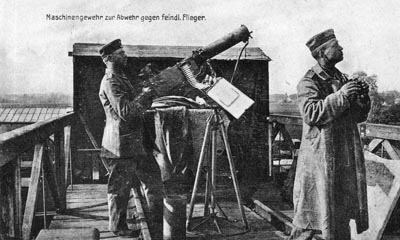 Two men and their machine gun on lookout during World War I.
Postcard images of World War I on the South Dakota Digital Archives
The State Archives of the South Dakota State Historical Society recently added a collection of over 90 postcard images of World War I to the South Dakota Digital Archives. The postcards are mostly of French and German soldiers in uniform and towns in France and Belgium destroyed during the war.
Although fighting occurred worldwide, the bulk of the fighting in Europe occurred in Belgium, Luxembourg, France and Alsace-Lorraine along what came to be known as the Western Front. The postcards also include images of World War I trenches, tanks, airplanes and a motorcycle.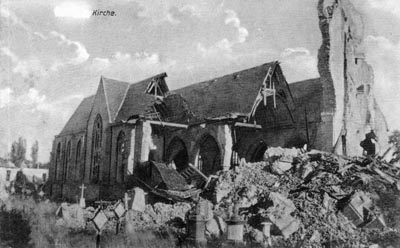 Remnants of a bombed out church.
The South Dakota Digital Archives also contains government and manuscript materials comprising accessioned collections, publications, brochures, audio and video files, and survey notes. More items are added regularly.
The photograph digitization project is funded by private donations and grants. If you are interested in sponsoring a photograph collection, please contact the South Dakota Historical Society Foundation at (605) 773-6001.