BACK TO TOP
archives
February is Black History Month
In celebration of African American achievement in the history and development of the state of South Dakota, the State Archives is highlighting a few personalities and African American collections.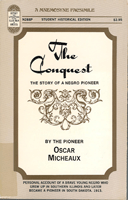 Oscar Micheaux, South Dakota homesteader, writer and filmmaker, wrote several books and produced movies based on his books which titles include: The Conquest, The Forged Note, The Wind from Nowhere, The Case of Mrs. Windgate, The Story of Dorothy Stanfield, The Masquerade, and The Homesteader.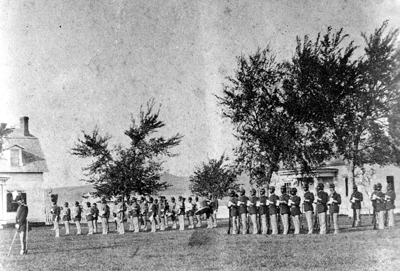 Black soldiers that were sent west after the Civil War were called Buffalo Soldiers. This photograph shows the Buffalo Soldiers of the 25th Infantry Co. B. who were stationed at Fort Randall in 1882.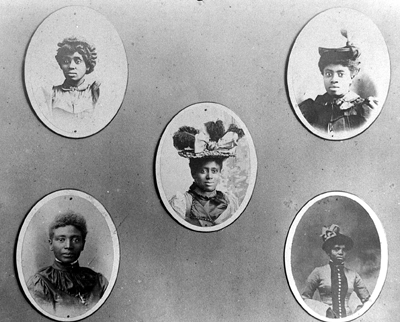 The Blair Colony, near Onida in Sully County, was started in 1882 by P.H. and Benjamin Blair, sons of Norval Blair. There were about 200 residents farming and ranching at the colony before the Great Depression forced them to move on.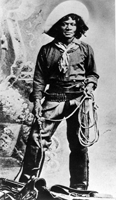 Nat Love, better known as Deadwood Dick, worked as a cowboy in the west from around 1869 through 1890. He participated in rodeo events in Deadwood on July 4, 1876.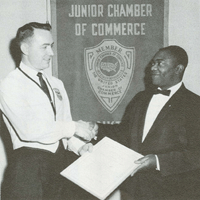 Ted Blakey was a prominent Yankton businessman who was actively involved in the Republican Party, Jaycees, Kiwanis, and Order of the Eastern Star and was a member of the African Methodist Episcopal Church. He was also one of the founders of the Black Museum located in Yankton.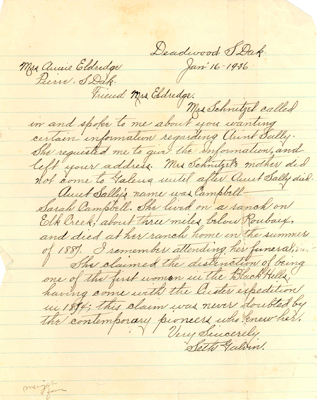 "Aunt Sally" or Sarah Campbell was the only woman who traveled with the Custer expedition to the Black Hills in 1874. She remained in the hills and cooked for miners. She died in 1888 on her ranch near Galena. Sarah claimed not only to be the first woman into the Black Hills but also the first African American woman.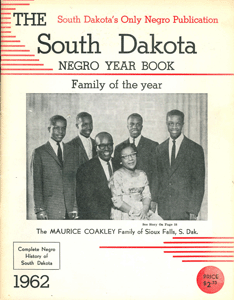 Many miscellaneous pamphlets and publications, such as this one are found in the archives vertical files