BACK TO TOP
archives
Fourth SD Infantry, 1917
Fourth South Dakota Infantry, Mexican Border Service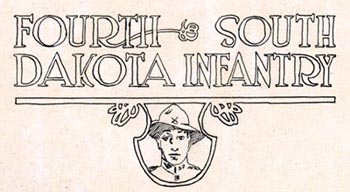 The web site features a list of those who served with the Fourth South Dakota Infantry during Mexican Border Service. The list was compiled by volunteers from the book titled, Fourth South Dakota Infantry, Mexican Border Service, 1916-1917.
Information found in the list includes name, rank, address, company, and notes were applicable. There were over 1,000 names listed in the book from various locations throughout South Dakota. According to the book, name and rank were current as of January 10, 1917.
Martin L. French, then from Howard, a Sergeant with the Fourth South Dakota Supply Company, at one time, donated the book to the South Dakota State Historical Society.
Search by Last Name of Serviceman
Search by Address of Serviceman
Fourth South Dakota Infantry, Mexican Border Service, 1916-1917
UA 452.R666