BACK TO TOP
☰ Menu
historic preservation
Archaeology & Historic Preservation Month
May 2019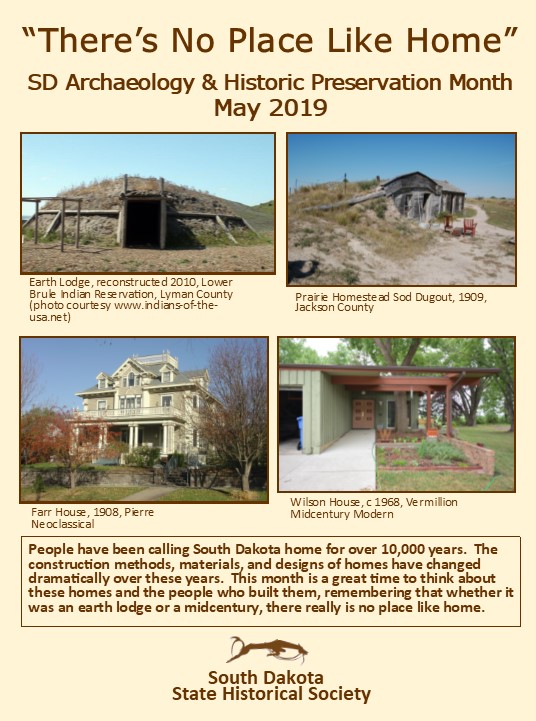 South Dakota's Historic Preservation Month has been observed since it was established at the national level in May 1973. In 2005 the state added archaeology to the celebration to recognize it as a partner in preserving history. Our state's cultural heritage is rich and diverse as represented by thousands of archaeological and historical sites, historic buildings and landscapes that have been discovered and recorded throughout the state. Public appreciation and understanding is the foundation of protecting and preserving South Dakota's past for future generations.
The theme for 2019, "There's No Place Like Home," reminds us that people have been calling South Dakota home for over 10,000 years. The construction methods, materials, and designs of homes in South Dakota have changed dramatically over these years. Archaeology & Historic Preservation Month is a great time to think about these homes and the people who built them, remembering that whether it was an earthlodge or a bungalow, there really is no place like home.
Please click on the image to see a larger version.
Student Essay Contest
This Place Matters is a national campaign that encourages people to celebrate the places that are meaningful to them and to their communities, and national Preservation Month is the perfect time to share it with the world. The South Dakota State Historic Preservation Office is asking South Dakoa 4th graders to share their This Place Matters stories.
The South Dakota State Historic Preservation Office sponsored a 4th grade student essay contest. This competition proposed to enable students to achieve a better appreciation of their historic resources, the stories they tell, and why they should be preserved. With the theme of This Place Matters, students were asked to write an essay about any South Dakota location that is at least 50 years old, why it is a favorite place for them, and why it should be preserved. It did not need to be a historic site and writing a history of the location was not necessary.
Click here to read the 2019 winning essays.

2019 Archaeology & Historic Preservation Month Executive Proclamation

Please click on the image to see a larger version.